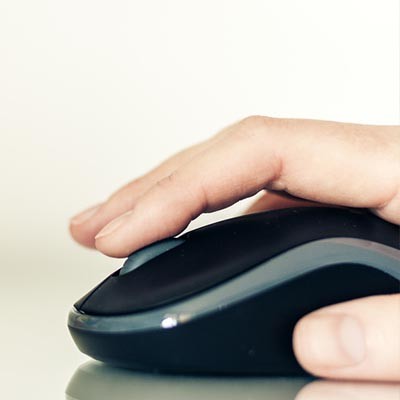 Does anyone remember computer punch cards? Does this date us? Either way, since computing punch cards went the way of the dinosaur, there has been some version of the keyboard and mouse as we know them today. These interfacing tools have become so ingrained into our minds that it is frankly difficult to imagine a computer without them... But this begs the question, will there ever be a user interface impressionable enough to replace them?
That really depends on how the interfaces under development are adopted. Here, we'll list the anticipated development of new interfaces and when we might expect to see these technologies emerge.
Where We Stand Today
Today, the keyboard and mouse are still alive and well, yet to be phased out by the touch gestures that are incorporated into more and more devices today, or the voice responsiveness that many technologies leverage via virtual assistants. Augmented and virtual reality are also becoming more mainstream, which makes it increasingly likely that they will someday soon make a practical appearance in the office space.
Digital assistants have also been making a splash in the professional environment, making many rote operations more streamlined and efficient.
What We Might See Soon
The key to an effective user interface is how intuitive it is for the user to pick up a device and start using it successfully. This is what was largely responsible for the smartphone to experience explosive growth. However, there is a good chance that this growth will ultimately enable us to no longer need to touch our devices at all. Project Soli, one of Google's many, many ventures, shows promise toward creating a touch-free manual interface, gestures being used to manipulate our devices via radar.
This can also be seen as a precursor to the three-dimensional interface, as seen in films like Minority Report. There has actually been progress made toward this kind of interface by researcher John Underkoffer, who assisted with the creation of the movie.
We can also look to the Iron Man film franchise for another glimpse into the potential future of haptic holograms. While the holograms that we see in most movies are simply projections of light, the ones leveraged by Tony Stark in his films can be interacted with - edited, reorganized, and fundamentally altered by the viewer in the room. These holograms can even mimic a physical keyboard for the user, suggesting that the need for bulky physical components may not be so long-lived. If we sound excited for this kind of technology to someday exist, it's because we are.
UI So Advanced, It's Almost Unbelievable
What if you could control devices and information using only your brain? Bioelectronics and Brain-Computer Interface technology could make this a possibility in the not-so-distant future. Basically, by scanning a user's brain waves, a computer can translate these waves into actionable commands.
This technology is already being tested in things like motorized wheelchairs and robotic limbs to aid those who rely on these tools. However, this is just the start… further research is being made into how BCI can be used to control devices and household utilities.
Communication is another function that BCI can be used to restore or augment. Implants have been developed that allow typing to be done with only the mind, while others are in development that would directly translate brain waves into text. Perhaps most incredibly, an experiment was conducted that functionally replicated the effect of telepathy. By having a subject in India think the word "hello," converting that thought to binary code and emailing it to France, a subject in France was able to receive the message after it was reformatted into brainwaves.
On a related note, BCI has also allowed us to take (admittedly low-quality) recordings of dreams.
Naturally, a lot of the potential uses for BCI are a long way off, but many could perceivably be used to improve the overall quality of life for much of humanity quite soon. Only time will tell.
What do you think? Are any of these use cases particularly interesting to you? Tell us which, and why, in the comments!